Our members cover different aspects of the grape industry. From vineyards and wineries to the hobbyist, we help our members stay connected and informed about legislation, education, and available resources.
When you buy local wines, you are getting the highest quality products because of the hard work and dedication of our members. We invite you to discover Oklahoma wines, vineyards, wineries, and retailers throughout our state.
Oklahoma's grape industry makes a positive impact on our state by creating thousands of jobs and significantly contributing to our economy. When you discover Oklahoma wines while visiting our member vineyards and wineries or buy local wines at our member retailers and restaurants, you support Oklahomans.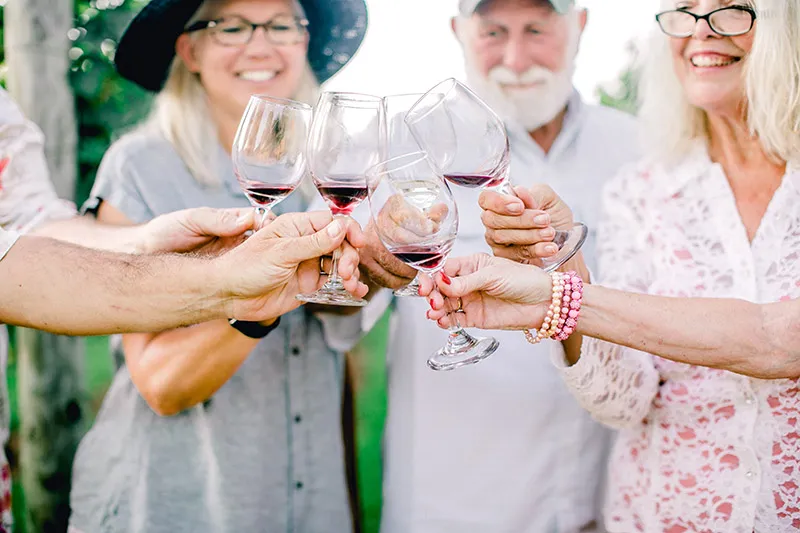 Friends of the Industry
C&R Farms

Howard's Vineyard

Shell Creek Vineyard

Jennifer Grover
Commercial Vineyards
Redbud Vineyard

Battle Creek Vineyard

Sister's Vineyard

Gray Fox Vineyard

C&H Garden Vineyard

Red Fern Farm

Scissortail Vineyard

Red Hills Vineyard

EF5 Vineyard

Red Dirt Vineyard

Vineyard at Cabernet Bay

Cottonwood River Valley Farm
Ingels Vineyard
Oak Tree Vineyard
Bois Darc Vineyards
Meadowlark Farms
Whispering Winds Ranch & Vineyard

Hickory Hill Vineyard

The Vines at Lake Haven
Second Wind Vineyard

Sabatia Vineyards

Pumpjack Vineyard

Sunset Ridge Vineyard

Chatee's Vineyard

Lakeside Vineyards
Commercial Wineries
Rusty Nail Winery

Tidewater Vineyard & Winery

Cotton Blossom Winery

Put A Cork In It

Water's Edge Winery-OKC

Blue River Valley Winery

DeAngel Farms & Winery

Girls Gone Wine

Plymouth Valley Cellars

Yippie Ay-OK Winery

B&G Meadery

Summerside Vineyards & Winery

Indian Creek Village Winery

Rocky Top Winery

Vernost Wine Company

Blue Buggy Vineyard & Dow Winery

Clauren Ridge Vineyard & Winery

Woods and Waters Winery

Land Run Winery

Fish Tales Winery & Vineyards

Dancing Skeleton Meadery

Brio Cellars

Old Silo Winery

Monkey Island Vineyard & Winery

Crystal Creek Winery

Whirlwind Winery

Whispering Meadows Winery

Strebel Creek Vineyard & Winery

Turner Me On Wines

Native Spirits Winery

Waddell Vineyards

Wildhorse Canyon Farms

Spectrum Vines & Wines

Pecan Creek Winery

Dancing Rabbit Creek Winery

Waters Edge Winery – Moore
Retailers and Restaraunts
All In Tavern – Muskogee

Annie's Liquor

Ardmore Liquor

Aspen Liquor – Broken Arrow

At the Y Liquors – Talequah

B&B Liquor Warehouse – Broken Arrow

Barn Spirits – Stillwater

Beeline Liquor 

Big Country Liquor – Stillwater

Bixby Wine & Spirits – Bixby

Black Hawk Liquor Store – Tahlequah
Blue Starr Liquor 
Bottom's Up Liquor – Shawnee
Boulevard Wine & Spirits
Brewsky's – Purcell
Broadway Liquor – Shawnee &

Muskogee

Broadway Mixers – Muskogee

Broadway Wine Merchant – Oklahoma City

Brown's Bottle Shop – Stillwater

Bryant Square Liquor – Edmond

Burn Co BBQ

C.J.'s Wine & Spirits – Broken Arrow

Capt. Jack's Wine, Rum & Spirits – Norman

Carrabba's Restaurant – Tulsa

Cheers Wine & Spirits – Moore 

Collins Midtown Liquor – Tulsa 

Cork & Bottle Wine & Spirits – Edmond

Corkscrew Wine & Spirits

Creek Nation Casino – Muskogee

D & J Liquors – Broken Arrow

Deep Discount Liquor, Beer & Wine – Tulsa

Discount Liquor – Durant

Dulaney's Retail Liquor Store – Stillwater

East Moore Liquor – Moore 

Eddie's Liquor 

Fike's Parkhills Warehouse – Tulsa

Ft. Gibson Liquor & Spirits – Ft. Gibson

Grand Spirits Wine & Liquor

Grapes & Grain – Tulsa

Grateful Head Pizza – Broken Bow

Harrah Road Wine & Spirits

Hemingway's Social Club and Neighborhood Bar –

Highway Liquor Store – Okemah

Homeland
Hotrod Liquor – Talequah

J.R.'s Liquor, Wine & Beer – Stillwater

Jake's Bottle Shop – Ada

Jamil's Steakhouse – Oklahoma City

Joe's Wine & Spirits – Norman

Joy's Liquor Barrel – Yukon

Jubilee Liquor – Tulsa

Kwenchers Liquor –

Owasso

Liquor Stache – Ada

Lug a Jug Package Store –

Weatherford

McAlester Country Club – McAlester

Moonshiners Liquor

Moore Liquor – Moore

Muskogee Beverage – Muskogee

Napa Flats – Tulsa

Northside Liquor –

Poteau

Nowata Road Liquor

Oklahoma Discount Liquor – Yukon

On the Floor Liquor –

Sallisaw

Our Favorite Place –

Eufala

Outback Steak House – Tulsa

Outlaw Liquor

Owasso Wine & Liquor – Owasso

P.V.'s Liquor – Tulsa

Park Hills Warehouse – Tulsa

Parkhill's Liquors & Wine South – Tulsa

Phelps' Market

PLW Warehouse Liquors & Wine – Tulsa

Pryor Liquor – Pryor

Quicker Liquor – Oklahoma City

Riley's Wine & Spirits – So. Yale

Riverside Liqor –

Tahlequah

Riverview Wine & Spirits –

Sand Springs

Ruger's Grill –

Sallisaw

Rum Runners Discount Liquor – Tallequah

Sammy's Liquor

Sean's Wine & Spirits

Sisters Spirits

Sotsky's Liquor & Wine – Bristow

South County Liquor –

Glenpool

Spike's Eastside Liquor – Stigler

Spirits on Riverside – Tulsa

Spiritz N'Wine – Norman

Station 1 Brewery – Muskogee

T.J.'s Wine & Spirits – Sand Springs

The Barrel House Liquor Store – Claremore

The Break

– Muskogee

The Castle of Muskogee – Muskogee

The Spirit Shop – Norman

The Twisted Cork – Yukon

The Wine Shop – Vian

Thru the Cellar Door Wine & Spirits – Broken Arrow

Thunderbird Liquor – Norman

TK's Cork & Bottle

Tom Cat Liquors – Talequah

Trojan Wine & Spirits – Jenks

University Liquor – Norman

UP Spirits – Tulsa

USA Liquors – Muskogee

Vintage Liquors & Wines – Tulsa

Wheelhouse Kitchen – Talequah

Wine Cellar – Tulsa

Xtreme Liquor II

Ye Ole Liquor Cabinet

Good Spirits Wine & Liquor – Tulsa